Our vaccines protect meat, racing and show pigeons from several types of disease. Each serial is tested for potency, and recent efficacy studies have shown excellent prevention of disease outbreaks.
This vaccine is a polyvalent bacterin of Salmonella isolates recently isolated from racing, show and meat pigeons. It has been formulated as an aid in the prevention of paratyphoid infections and will reduce the shedding of Salmonella by challenged pigeons. The new vaccine has been licensed by the USDA for use in the United States and by the CFIA for use in Canada. This vaccine contains a new, novel adjuvant that allows for strong immunity without deleterious side effects in the vaccinated pigeons.
For any technical questions, please contact Dr. Kazmierczak at (609) 771-0995.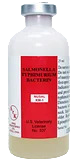 Avian Paramyxovirus Vaccine, Killed Virus
This vaccine is proven effective against Pigeon Paramyxo disease, gene sequenced to verify identity as PMV, and extensively tested in both lab and field for both effectiveness and also for safety. Created from the actual field virus isolated from a pigeon that was sick and died from PMV disease, this vaccine was developed by successful pigeon fanciers/veterinarians, Drs. John Kazmierczak and Paul Miller. Technical support is available from Dr. Kazmierczak at (609) 771-0995 (West Trenton Animal Hospital). This USDA licensed product uses the same smooth, gentle adjuvant as KM-1 vaccine, which eliminates vaccine reaction, down time, and losses. For use in all types of pigeons: racing, showing, meat, pet, flying, research.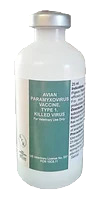 Contact one of these vendors for more information: